WELCOME TO OUR WORLD
WHAT WE DO
Would you like to know who is behind Wever & Ducré? Let's lift the curtain for a moment, for a team of creative people from all over the world. What connects us? The love of extraordinary lights that simply make life more beautiful. And make our customers shine every day. That's why we are always looking for people who share our enthusiasm. And would like to support us in the development of innovative designs. In product management, in sales, in warehousing, or in one of the many other departments that make Wever & Ducré a modern and ever-growing company.
a place for every talent
what you would do
Some were already the best at mental arithmetic in primary school, others speak French as if it were their mother tongue. We usually know in our gut where our talents lie. And that's exactly what we should listen to when looking for a job. Because the things you like doing, you do best. So listen to your gut and click through our different departments. We are sure that there is a job that exactly matches your skills and will advance you professionally and personally.
loaded with benefits
what we offer
If there's time for a little break in between, the job is twice as much fun. That's why we offer you many healthy benefits in addition to exciting projects and opportunities for further training. Relax with a quick yoga session during your lunch break, switch to a colourful exercise ball in the office, or ride one of our environmentally friendly leased bikes to work. With us, you can easily combine it with your job. Whatever works for you.
extra time-off FROM US
NINE BONUS DAYS
LOVE IS IN THE AIR. NO, THAT'S A SANDWICH.
meal vouchers
EVERY DAY IN EVERY WAY IN BALANCE. 
FLEXIBLE WORKING HOURS
GROW WITH US. AND BEYOND YOURSELF
TALENT DEVELOPMENT
"Coming into the job, I always had a buddy by my side, making me feel comfortable from the beginning."
"Coming into the job, I always had a buddy by my side, making me feel comfortable from the beginning."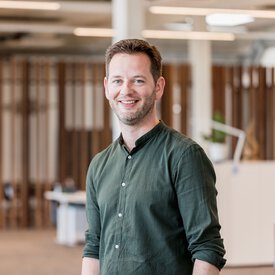 sam
lighting design